Have you ever thought about how the impact with a big city like Paris with its immense airports can be hard? Getting to the hotel using crowded and uncomfortable public transportation, and with the burden of luggage to make things worse, can easily turn your trip, whether it is for pleasure, work or study in a real nightmare. Paris Easy Transfers allow you a big saving of time, stress and money. Professional drivers are ready to welcome you inside the airport and take you to Paris without any waiting time, giving you the certainty that you have started your holiday in the "Ville Lumiere" in the best possible way.
Getting your quotation and booking is easy. Choose below the details of your transfers and get a quotation. You can then choose whether to proceed and confirm the transfer providing your personal information. In less than 24 hours an e-mail will confirm the reservation of the transfers, with all the details, instructions, and phone numbers to contact our operators.


Choose your transfers and
get a quotation
Assess the quotation and
conditions for the transfers
Fill in your details and
send your booking request
| | | | | | |
| --- | --- | --- | --- | --- | --- |
| | Roundtrip transfers | | One way - Arrival | | One way - Departure |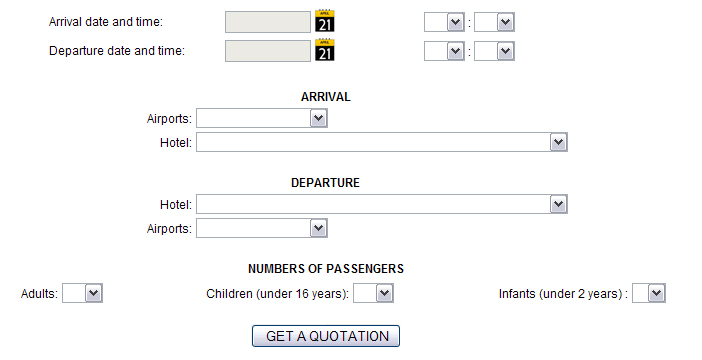 Please choose your transfers, in the next steps you will add all other details.
Transfers can be paid cash on arrival at destination, or prepaid by credit card Visa or Mastercard on our secure website.
You are a travel agent or a Tour Operator? You can send your affiliation request here to become our partner and get a discount code to book transfers for your customers.





If you can not find your destination, ask us for a quote here


Read our Frequently Asked Questions or contact us to clear up all your doubts about our transfer services. You can do that by e-mail or by phone; our representatives will be more than happy to assist you.
Follow us on Facebook, Twitter, Google+ and Youtube: you will be updated bout current events and about Easy Transfers and its services. You will also have the chance to win prizes, join our contests and get discounts and promotional codes to travel with us.